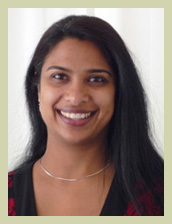 Deepa Ranchhod, BSc(Hons)Ost.Med
Deepa graduated from the British College of Osteopathy and Naturopathy in 1998 and has been practising in New Zealand since 1999. Her vision for the Osteopathic Practice which has been operating since April 2007, is to create a warm, professional environment for family healthcare through Osteopathy. Deepa - has previously served 6 years on the Osteopathic Council and is currently a Preceptor- which involves the assessment of overseas Osteopaths entering New Zealand.
"Osteopathy can provide relief for many different conditions and the challenge is always to work out the most effective treatment for each person. One needs to tailor the treatment to each individual and find their unique formula for recovery. This involves investigating the cause of the problem, but also all the other factors that might influence recovery in that individual. Two people with similar back pain might require quite different approaches in their treatment, due to the differences in their lifestyle, medical history and age for instance."
The aim is to help each patient gain the best health possible for themselves and to find a means of preventing recurrence. Upon your initial consultation, we will discuss the diagnosis with you and ensure you understand and consent to the treatment plan and how many treatments you may need. Our aim is to help you recover as quickly as possible and help you manage your health.
If osteopathic treatment is not appropriate, or not producing the desired results - we will collaborate with other health professionals to try and find you a solution. Pain is a signpost to a problem and the cause needs to be determined and addressed. So many people live with pain when they don't need to, because they are unsure of where to go if it doesn't fit into any specific category.
Additionally, sometimes their pain is blamed on certain things like age, weight or pregnancy but in actuality they have a mechanical problem that needs to be solved. Many patients that have attended the clinic thinking that their problem was due to such an issue, have been very pleased to find that while age, weight or pregnancy may have been contributing factors, they were not causative factors and a full recovery was often possible!
Deepa grew up in Zimbabwe, studied in England and has been in New Zealand since the beginning of her career. Like most she has great intentions about almost everything - but finds that between her osteopathy, running the business, mentoring and raising 2 boisterous young boys that sleep is the greatest attraction. She often says – there's no such thing as superwoman – just supertired!
So in an effort to seek out that Holy Grail that is known as work-life balance – she is known to indulge in her love of exercise, travel, movies and fine dining!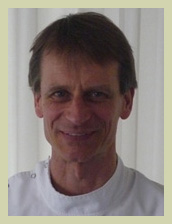 Martin Rooke, DO CHEK1(UK)
Martin graduated from the British School of Osteopathy in 1984. He worked in England, Scotland and New Zealand in a total of 10 different clinics.
"I really wanted to gain as much experience as possible from other practitioners, to be able to pick their brains to help as my osteopathic ability develop. I also wanted to see as many clinic setups as possible, so that when I set up my own practice I had a clear idea of what it would look like."
In 1997 Martin set up 'Newtown Osteopathy,' in Wellington.
In 2008, during a casual cup of coffee with Deepa, Martin remarked that life was hectic being a practice owner, clinician, father and founder of his start-up company, Morfit. Deepa suggested that Newtown Osteopathy come and join The Osteopathic Practice that had recently been established. Newtown Osteopathy became part of TOP a few months later.
Martin has especially enjoyed the development of musculoskeletal health professions over the past 20 years. He finds attending multidisciplinary conferences most useful as it allows different professions to see how others approach problems, as no one group has been best at everything. It also ensures that we keep up with the ever quickening developments in medicine.
Martin still likes to keep things simple: "When we are hit by a bus, the mechanism of injury is clear. When we hurt ourselves doing ordinary everyday activities, this may not be so obvious. If we can find some of these mechanisms and change them, so that they do not aggravate, then the road to recovery is quicker. "
Martin likes to give plain-English advice, as an example he might say:
1st priority – don't make it worse
2nd priority – let us set the right scene for healing to occur
3rd priority – let us stop it happening again
Martin is a massive fan of "don't make it worse". This is one of the reasons that he wanted to address the problem of car seats that caused back pain. He invented a lumbar support for vehicles which has the ability to mould perfectly to the user, but continue to give strong support. In Martin's own words: "We all know if things don't fit, they suck."
Martin spends half his week working with Morfit. www.morfit.co.nz
Martin enjoys numerous water sports, mountain biking and has represented New Zealand at Age Group level at the World Xterra Championships (off-road triathlon).
Martin is an active member of: Osteopath New Zealand; New Zealand Pain Society; Sports medicine New Zealand
Oliver (Ollie) Lashman, BOst (UK)
Oliver trained and qualified as a registered Osteopath in London (UK). Oliver has worked in the UK and more recently New Zealand since 2009. His treatment style encompasses structural, cranial and functional approaches. Oliver enjoys treating people of all ages and outside of general practice enjoys treating chronic postural problems and the musculo-skeletal manifestations of breathing dysfunction. He enjoys playing a variety of racket sports and is keen to offer exercises and advice to patients to allow them to enjoy any interests or pursuits that they may have.

Outside of Osteopathy Oliver enjoys travel. He has visited many countries around the world and enjoys various international cuisines and likes to recreate dishes and flavours from his travels in his spare time as well as trying out the wonderful Wellington eateries that are on offer. Oliver loves the variety of activities that New Zealand offers and enjoys walks through the beautiful New Zealand countryside and is always keen to explore what this wonderful country has on its doorstep.
Adam Denton MOst, BAppSc(HB), BPhEd
Adam is a dedicated osteopath who enjoys working with his patients to restore and improve their health. He combines his knowledge of and respect for the human body with a genuine desire to help his patients achieve optimal health.
Adam has a clinical focus on exercise rehabilitation and paediatrics particularly digestive health in infants. He also has a strong interest in treating patients with headaches or migraines.
In addition to his Masters of Osteopathy (MOst), Adam has a Bachelor of Applied Science in Human Biology (BAppSc[HB]) and a Bachelor of Physical Education (BPhEd), majoring in Exercise Prescription and Management.
Adam started his career over a decade ago as a personal trainer working with a range of recreational and competitive athletes. He believes his experience in exercise and rehabilitation complements his role as an osteopath. Adam values working with other medical and exercise professionals, to ensure his patients receive comprehensive care and better health outcomes.
While at university, Adam completed his research thesis on foam rollers, which gives him an in depth understanding of how they can improve joint function and muscular imbalance. Adam incorporates the use of tools such as balls and foam rollers in his osteopathic treatments and exercise prescriptions.
Adam's approach to osteopathic healthcare includes patient education, he believes that if a patient understands their problem and how it has eventuated then they are better equipped to implement effective changes. He also prescribes exercise and encourages patients to be involved in their own treatment plan.
Prior to qualifying as an Osteopath, Adam spent three years working and travelling in the Middle East and Asia with his partner, including living in China for over a year. This experience expanded his understanding of health and human diversity.
Outside of work Adam spends his spare time with his partner and young son and makes the most of New Zealand's great outdoors. He enjoys recreational activities that provide 'experiences with a view' such as snowboarding, climbing, running and tramping.
Lorraine Bloomfield - Office Administrator
Lorraine joined the practice in 2012 and is the office administrator.
She will happily organise your bookings and will always try to accomodate your specific needs.